Buddy Scheme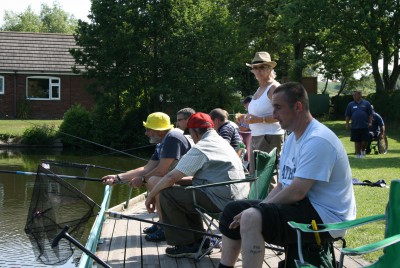 Your son, daughter, dad, mother, student or a close friend wants to try fishing. You want to help them try but dont know the first thing about fishing, or really want to, but you wished you could help them enjoy a days fishing with you. Well the Buddy Scheme will give you enough knowledge to help someone else enjoy fishing, despite all the hype fishing is a very simple pastime.
Our buddy scheme was initially thought of many years ago when we were inundated with requests for help, we developed the scheme after qualifying as level 2 angling coaches and level 3 sports tutors. The knowledge gained from these qualifications has enable us as team to put together a programme, for anyone who wants to help a disabled child or adult go fishing but has no interest themselves in fishing, however still wants to make sure others have the opportunity but may not have the physical ability to do so without help.
The first live pilot scheme was run in association with the Stroke Association in the North West of England, the feedback was the scheme was a huge success with volunteers from Barclays bank whom made up the bulk of the first official certificated Buddies.
The scheme
A one day attendance certificated group workshop (minimum 10 people), offering volunteers a simple yet effective angling assistant introduction "The Buddy", enabling the volunteer to become a competent helper regardless of the level of angling knowledge, ensuring the participant is able to enjoy fishing. The workshop has been designed by BDAA Level 3 Sports tutors & level 2 angling coaches all with a vast knowledge of angling & disabilities. This workshop offers a way for your group to go fishing using your own volunteers or staff, the saving of not requiring the employing coaches will enable you to maximise the number of times you can go fishing. This course is not a coaching course, but simply a means of obtaining the basic skills required for taking your group, child, parent fishing independently.
Delivery
The workshop is designed to be delivered in two stages:
Stage 1: Indoor theory
Introduction with show and tell demonstrations
Group micro sessions
Assessment
Stage 2: Outdoor practical on a live fishery
Introduction with show and tell demonstrations
Review of theory
Practical
Assessment
Certification
Outcomes
When the two stage workshop has been completed, the BDAA Buddy should be able to complete the following:
Identify items of equipment
Assembly of equipment (4 metre whips and accessories)
Attaching baits
How to cast
How to react (strike) at fish bites
How to play fish (guide to the net)
How to net (land) fish
How to handle fish
How to unhook & return fish to the water safely
How to disassemble and pack away equipment
Format
After the initial introduction, the volunteers will be divided into small micro groups, with one BDAA instructor designated to each micro group offering basic demonstration with volunteer/staff, feedback during the sessions on the theory then replicated on the practical at the fishery.
Conclusion
With this basic knowledge, BDAA believe that parents/relatives/carer/supporters/staff or volunteers regardless of interest in angling will be able to assist someone who would like to go fishing, confident in the knowledge they have enough knowledge to help someone enjoy fishing.
Cost
The course costs on average £50 per person (minimum 10) covering the costs of both days, this includes all coaches expenses, tuition, equipment, bait, fishery day tickets & certificates. On occasion we may have project funding to cover the costs or subsidise your Buddy scheme workshop.
Booking a Buddy scheme
Download, and complete a Buddy Scheme workshop application form which are available in our resource section of this website. The form will ask for important information such as your groups location in England or Wales, contact details, any special needs requirements, preferred dates & if you are able to fund your own event. In our reply we will inform you if we have project funds available to support your day, or the cost to your group.
In addition it will suggest locations of fisheries that we deem to be suitable in your area, we will suggest that these also meet your own groups risk and access assessments & access requirements.