BDAA Patrons
Television and Radio
---
Bobby Davro

Bobby initially telephoned Terry to say he would be delighted to be associated with the charity. Bobby is a British actor and comedian. known for his brilliant work as an impressionist. He made his TV debut in 1981, then in 1983 he made his television breakthrough at Live from Her Majesty's.
He became very popular with his appearances on the television show, Who Do You Do?. He also appeared on a variety of television shows, mostly with ITV, throughout the 80s and 90s. Bobby`s popularity was at its highest during the mid 80s with his own Saturday shows.
---
Richard Digance

Richard Digance accepted the charities invitation at the NEC go fishing exhibition whilst attending the BDAA stand. One of the great folk entertainers of the 70s and 80s and has lots of tales to share from his time touring the clubs and meeting some great musicians. His evergreen career has been acknowledged through numerous awards within both the music and entertainment industries, from a BAFTA Nomination as a TV entertainer to a Gold Award from The British Academy of Composers and Songwriters.
He has supported Steve Martin in the USA, Robin Williams at The London Palladium and is included in The Virgin Anthology of Songwriters for his important contribution to British comedy song writing. When presented with the Gold Award from the British Academy of Composers and Songwriters he was described as someone who for half a century has travelled the world with just a guitar and an immense collection of stories gathered through his own experiences.
---
Matt Hayes

Matt Hayes accepted the invitation some years ago whilst speaking with Terry on the banks of Larfrod Lakes. Matt (born 24 November 1961 in Smethwick, UK) is a renowned British angler who has been making television angling programmes featuring mainly on the digital TV channel, Discovery Real Time.
Due to his television work and the numerous fishing articles he has written, Matt is one of the UK's most famous and recognisable anglers. He is often seen on TV alongside his fishing companion and fellow programme contributor Mick Brown. He has a Law degree from Wolverhampton University and he currently lives in Shropshire, the UK. In his early years on his program 'Total Fishing with Matt Hayes', his co-presenter was Jan Porter.
---
Bruno Brookes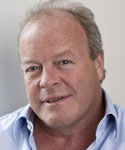 Bruno Brookes accepted our invitation from Terry whilst appearing as a guest on the Sky sports Tight Lines fishing programme. Bruno presented the BBC Top 40 show on Sundays from early 1986 until Sept 1990 and again from March 1992 to Feb 1995. He was well known for his lively, professional presentation style. Born 1959 in Stoke-on-Trent, Bruno (his 'real' name is Trevor) was fascinated with the role of DJ and began at his local youth club. He helped his father run mobile discos and soon won a Disc Jockey Derby competition.
Bruno Made DJ demo tapes in his soundproofed garage and sent them to radio stations around the UK. Initially, his own local station Radio Stoke invited him to review records on a teen programme. After suggesting a job spot feature there he ended up taking over the whole show for three years. He increased the audience by five fold and was Made a permanent presenter.
---
Bob Nudd MBE
Bob Nudd MBE, accepted Terry`s initial invitation, the relationship grew stronger when Terry also become part of the Browning individual sponsored anglers. Bob was the first English angler to win four individual world angling championships: 1990 (Yugoslavia), 1991 (Hungary), 1994 (England), 1999 (Spain). Bob represented the England team at international level for more than 24 years, during which time he became arguably the best known angler in the world.
The highlight of his professional career was victory in front of a home crowd at Holme Pierrepont, Nottingham, in 1994. In 1991 he received the most votes ever in the BBC Sports Personality of the Year Award but was denied victory by the BBC, who claimed a campaign to vote for him in the weekly fishing newspaper Angling Times was against competition rules. He has an MBE for services to fishing.
---
Dave Harrell

Dave Harrell a Walsall born angler fished competitions on the match circuit with Terry Moseley at local fisheries, Dave gave his support to the charity soon after it began working and continues to support it to date.
He is a renowned match angler that's fished at the very highest level (for England) and has won titles that us "mere mortals" can only dream of: Kamasan Matchman of the Year twice (when matches of less than 60 pegs didn't score points), twice winner of the Evesham Festival and one of the top all-rounders in the UK produced a library of videos and DVD's on angling including his favourite river Avon.
---
Keith Arthur

Keith Arthur has always had respect for the work Terry put in initially, and now that of the team, an ardent supporter of the charity Keith has invited Terry several times as either a guest or film subject promoting the disability cause. He started fishing as a child, is an encyclopaedia of knowledge on Britain's most popular pastime and his show: Fisherman's Blues, provides in-depth knowledge on the best bait, best spots. If its connected with fishing Keith Arthur knows about it.
The early bird gets the worm, or so the saying goes, and Keith is up earlier than most on Sundays. His show kicks off at 6am as he attempts to restore some sanity to talk SPORT, following the night-time madness.
---
Alan Scotthorne MBE

Alan Scotthorne MBE accepted Terry's offer during an event in Rotherham where Terry invited the then England squad to fish against the disabled England team of which Terry was a member, the catch was they all had to fish from wheelchairs to raise awareness. He is officially the world's greatest-ever match angler, having lifted the World Championship individual title for the fifth time.
He took top individual honours after claiming five points during the two-day event which took place over the weekend on Hungary's Lake Velence rowing course. The Shimano-backed Drennan Team England matchman impressed the crowd with his phenomenal slider fishing tactics presenting bunches of bloodworm well over depth. He took 5.410kg on day one, from Peg 18 on A section, only beaten for first place by a carp taken from the end peg. Day two saw Alan draw peg 38, an area he did not particularly fancy, but the esteemed matchman still finished third in his section – enough for a total of five points and to lift the individual title.
---
Des Taylor

Des Taylor welcomed Terry's invitation to become one of the charities patrons. One of the country's top Carp anglers Des Taylor and straight talker, has been on the angling scene for many years. An expert on the River Severn in Worcestershire has always supported the Great British charities.
---
John Wilson

John wrote to the charity accepting the invitation. (born 1943) is a British angler who has been making television angling programmes for the last 20 years featuring on Channel 4 Television and more recently on the digital TV channel, Discovery Real Time. John was voted "The Greatest Angler of all Time" in a 2004 poll by readers of the Angling Times Newspaper. John Wilson was born in Enfield, London where he fished on the River Lee.
He had careers in hairdressing, the Merchant Navy and printing before opening his own fishing tackle shop based in Norwich in 1971. John now lives at Great Witchingham, Norfolk where he fishes on his local River Wensum and owns his own lake complex. After being voted as the greatest angler of all time, John has now been awarded an MBE in the 2009 Queen's Birthday Honours List.
---
Dave Vincent
Dave Vincent . Terry has had a long friendship with Dave, from a colleague in the Browning stable to his coach in the England squad where Dave led the team to Bronze & silver medals, he gave and still does fully support the work of the charity.
A native East end Londoner, and most popular man on many International competitions, who has been involved in coaching at the very pinnacle of the sport, from International disabled team coach through to international ladies team coach the cockney angler has always proved his worth as a top rated match angler. Dave has been a regular feature in the angling press, sponsored by Browning/Zebco he has amassed dozens of trophies mainly due to his preparations prior to matches. Dave has supported the charity for many years and continues to do so.