BDAA Adapted Equipment
Clothing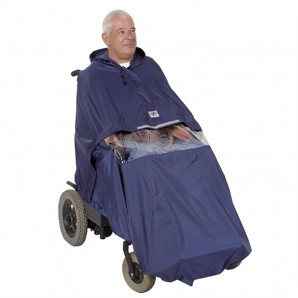 Waterproof Power Cape
This Power Cape is a useful aid for wheelchair users. It provides protection from rain and bad weather to the user and the wheelchair. A transparent panel at the front enables the user to view the controls whilst remaining protected. The lateral opening slots give freedom of movement to the arms, allowing the user to still perform a range of activities. A hood provides additional protection, and a tight fit around the chair means that the Power Cape will not blow around in the wind. Chest diameter: 116cm (46 inches). Length: 182cm (73 inches).
Cost £51.59
Available from Essential Aids LTD
---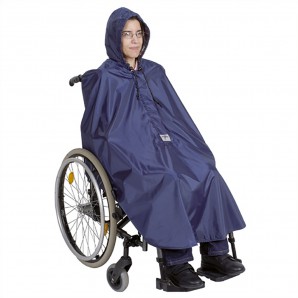 Wheely Poncho Mobility Poncho
The Wheely Poncho Mobility Poncho provides easy comfort, warmth and rain protection for users of wheelchairs or mobility scooters. Two options are available: the unlined Mobility Poncho or the 3 in 1 Mobility Poncho. The unlined version is perfect for light rain protection and comfort during warmer weather, and the 3 in 1 version can be used for warmth, rain shelter and extra coverage. Mobility Poncho 3 in 1 version Universal chest size: up to 140cm. Colour: Navy blue. Mobility Poncho 3 in 1 version The Wheely Poncho Mobility Poncho is very easy to take on or off, looks stylish and makes a fantastic gift for users of wheelchairs or mobility scooters.
Cost £29.04
Available from Essential Aids LTD
---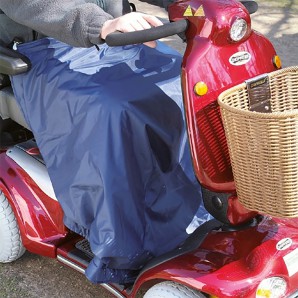 Scooter Leg Cape
This Scooter Leg Cape is perfect for people who go out on a mobility scooter in bad weather. It provides both warmth and a waterproof barrier between the legs and the elements. The thermal, quilted lining ensures maximum heat retention. Easy-to-use braid and clip fasteners allow the Scooter Leg Cape to be secured to the seat. Length: 100cm (40 inches).
Cost £39.48
Available from Essential Aids LTD
---
The Wheelchair Cosy
The Wheelchair Cosy is a fantastic wheelchair accessory for warmth and comfort, made with a cosy fleece lining and fully waterproof outer layer. It features a back panel for added support and softness, and an extra large ring pull zip which enables easy use. The Wheelchair Cosy fits to almost any manual wheelchair, and is ideal for use with the Wheelchair Poncho. Length: 48 inches (122cm). Width: 27 inches (68cm). Wash at 40 degrees using a mild detergent, without fabric conditioner.
Cost £37.19
Available from Essential Aids LTD
---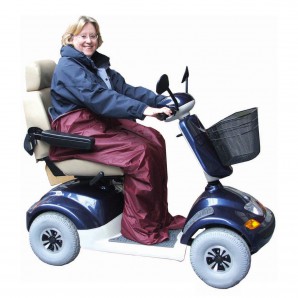 Skoota Kozee Toze
The Skoota Kozee Toze is a weather protection aid that protects the lower limbs of mobility scooter users. It has a waterproof outer layer to keep the user dry. A fleece-lined inner section ensures that maximum heat is retained and the user is kept comfortable. The bottom section has a hard-wearing nylon skirt, and the split design allows the feet to more freely. A full-length zip makes the Skoota Kozee Toze extremely easy to put on and take off. It also has two hidden pockets for the secure storage of small items.
Cost £52.79
Available from Essential Aids LTD
---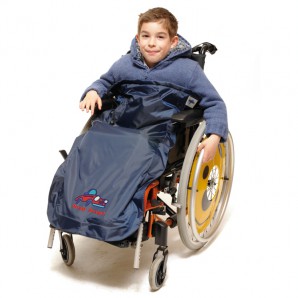 Childrens Wheely Cosy
Our Childrens Wheely Cosy keeps the occupant warm and dry. It features a warm, quilted internal layer for extra comfort. Keeping the legs and feet fully covered, it is ideal for a child in a wheelchair. A zipped front pocket is great for storing toys or other small items. The front section of the Childrens Wheely Cosy is removable and secured with a strong zip. Ages 2-6 Chest measurement: 85cm (34 inches). Length: 71cm (28 inches). Ages 7-10 Chest measurement: 92cm (37 inches). Length: 80cm (32 inches).
Cost £53.40
Available from Essential Aids LTD
---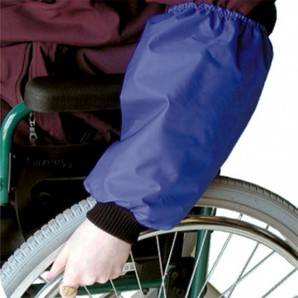 Sleeve Protector
Our Sleeve Protector is designed to be worn by wheelchair users on their lower arms. It will prevent the user's clothing from being soiled during outdoor travel. The user's arm and clothing is protected from the dirt and damage caused by the rotation of the wheels. An elasticated top and bottom cuff prevents the ingress of water and dirt, and makes the cuff simple to put on and take off. Each pack contains two Sleeve Protectors.
Cost £11.47
Available from Essential Aids LTD
---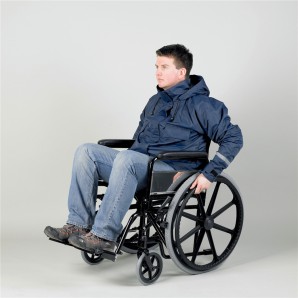 Deluxe Wheelchair Jacket
This Deluxe Wheelchair Jacket is cut short at the front, ensuring it does not bunch up when the user is sitting. The jacket provides a comfortable outer layer, made with breathable material which enables moisture evaporation from the skin while keeping the wearer dry. The inside of the sleeves are reinforced in order to protect against damage when self-propelling your wheelchair. Large external pockets on the Deluxe Wheelchair Jacket are ideal for handy items like mobile phones or glasses. It is cotton lined for comfort and warmth, while its hood folds down into the collar when not in use.
Cost £71.99
Available from Essential Aids LTD
---