BDAA Adapted Equipment
Reels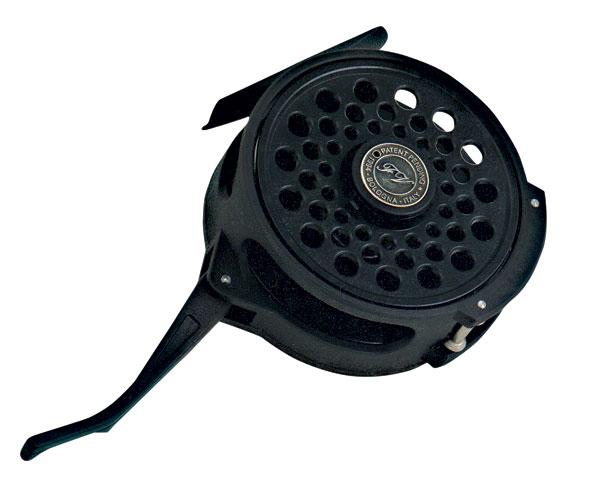 FV103 DEKOR CARBON REEL
Semiautomatic carbon fiber reel. Mechanical parts manufactured from stainless steel and bronze. Push button release spool. The Franco Vivarelli reel in carbon fiber: the great classic of our collection. Extremely light and perfectly balanced. Acting on the rod attachment, it is possible to regulate the position of the lever in base of the grip. The decor version receives further special ornamental treatments. The result is a refined briar wood and carbon fiber effect. Line capacity up to WF 6F Weight 103 g.Spool FV109
Cost £190.00
Available from Vivarelli Franco Sas , 129/A 40065 Pianoro (BO) Italia
---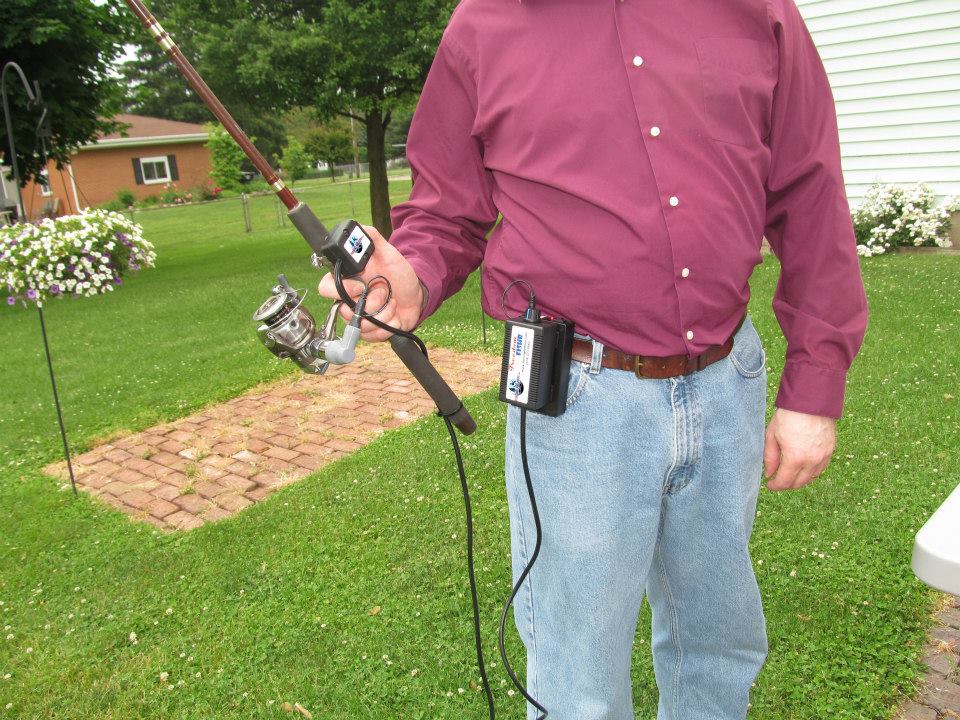 FreedomFISHR™
The FreedomFISHR™ replaces a manual crank with a powerful 12V gear motor - making one-handed fishing, effortless! Advanced circuitry along with Lithium-Ion Polymer battery technology bring this system to life with more efficiently than ever before. The FreedomFISHR™ was engineered for weight reduction and value WITHOUT ever compromising power and capability. The end result is a superior product with less fatigue, better sensitivity and bringing more FUN to your fishing experience! We currently offer 2 Shimano spinning reels our main reel is the Syncopate 2500 (which is a good all around the reel) if you would like a slightly smaller reel we also have the Syncopate 1000 at no extra charge.
Cost £200.00
Available from Fishing Abilities inc
---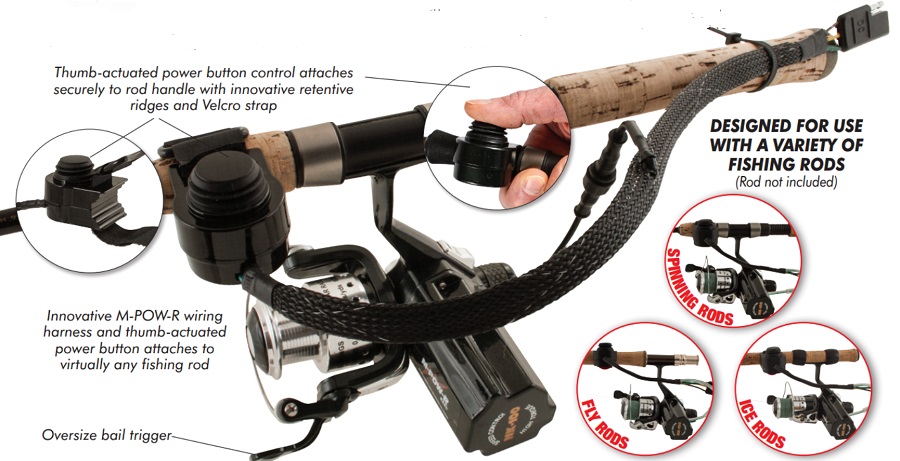 M-POW-R NK100PH Reel/ Power Harness Combo
Brainerd, MN—The M-POW-R REEL® is a top-quality, motorized spinning reel which enables physically-challenged (especially one-handed) anglers to rediscover the joy of fishing. Powerful and versatile, the reel is designed to fit virtually any spinning rod, ice rod or fly rod, thanks to an innovative new M-POW-R Harness developed specifically for the reel. The new product package includes the M-POW-R spinning reel, M-POW-R Harness, 4 amp battery, battery charger, fanny pack, and a pulse width modulated speed control, which provides optimum torque throughout the motor's power band. Anglers operate the reel with a thumb-actuated button attached to the rod (via the M-POW-R Harness). A spare spool, backup reel handle and a power point adapter plug are also included. This product package will complement the original M-POW-R REEL® and Rod Combo that was introduced in June of 2014. Initiated by Dr. Roland "Doc" Kehr, former co-owner of the Lindy Little Joe Tackle Company, the M-POW-R reel was developed for Doc's son Nathan, who has cerebral palsy and is unable to use his left arm and hand. Through years of research and development and advice from such angling luminaries as Al Lindner, Dan Sura, Dave Csanda and Jeff Zernov, as well as input from disabled anglers themselves, the M-POW-R reel is able to retrieve virtually any type of lure and land even the largest species of freshwater game fish
Cost £500.00
Available from M-POW-R FISHING LLC
---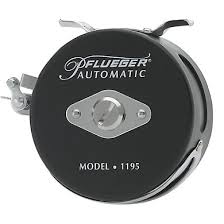 Pflueger Automatic Fly Reel
Pflueger Automatic Fly Reel offers easy one-handed operation for use in boats where you need a free hand to paddle or pole. The Pflueger Automatic has a line trigger that winds in line with just a quick pull for a no-hassle way to reel in line. No more loose tangled!
Cost £25.00
Available from Pflueger Columbia
---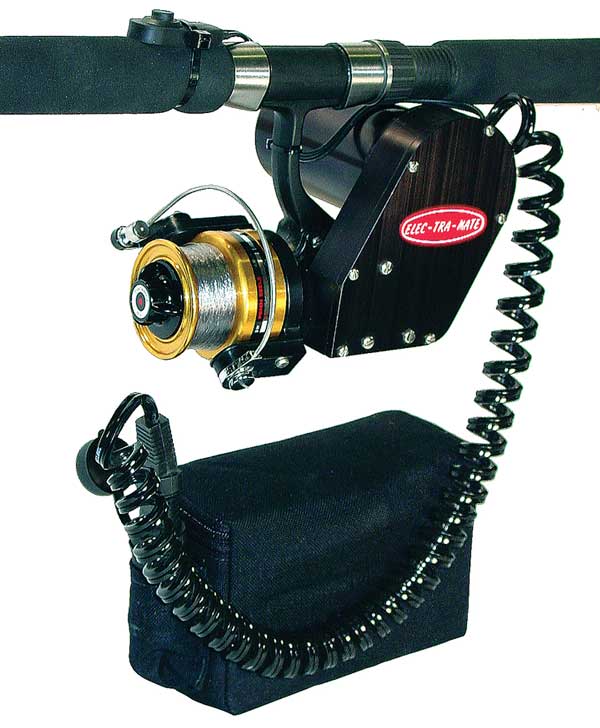 452-PTH Push Button
 he 452-PTH has been designed to enable individuals who are physically challenged to enjoy the sport of fishing without assistance. Engineering know how and fishing experience used developing offshore fishing products has been applied to the design and development of the most powerful drive ever put on a spinning reel, the 452-PTH. Unlike other electric spinning reels which leave the angler discouraged at not having enough power to land pan fish, the 452-PTH has the power to easily overcome largemouth bass, small mouth bass, brim, crappie and other freshwater species without the need to assist the motor by cranking.
Cost £326.99
Available from Electra-mate
---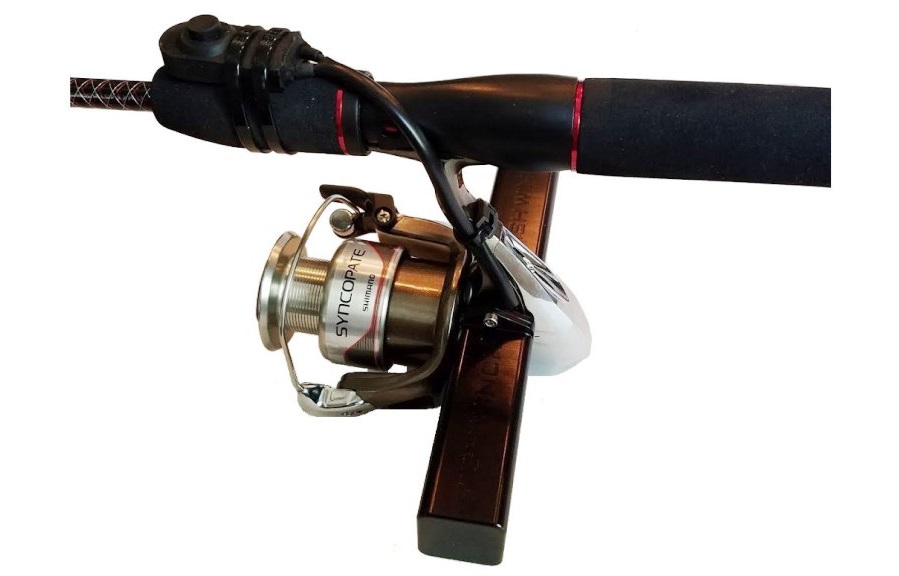 Spinning reel
FISH WINCH® adaptive fishing reel drives for spinning reels along with the Shimano Quick Fire II system allow for easy one-handed casting & retrieving. FISH WINCH® electric spinning reel drives are cordless, easy to use, weigh only 10oz (includes 9V lithium battery), and are available in 3 retrieve speeds for various styles of fishing and lure presentation.
Warranty - 3 Year Mechanical/1 Year Electrical
Cordless - Uses (1) 9V Battery (Not included)
Weight - 10oz (Includes 9V Lithium Battery)
One-Handed Casting & Retrieving

Compact & Well Balanced

Power Button - Soft Touch & Waterproof
304 Stainless Steel Fasteners (Screws, etc)
Aluminum Housing (Anodized)
3 Models (3 Different Retrieve Speeds)
Fits 3 different Shimano spinning reels
Cost £275.00
Available from Fish Winch
---