BDAA Adapted Equipment
Gloves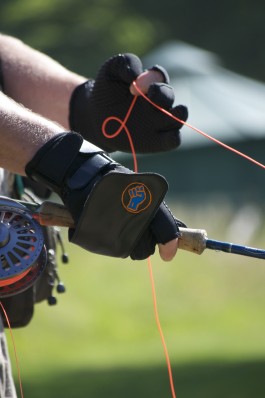 Fishing glove
These Gripeeze® fishing gloves use the best materials and Gripeeze technology to enhance the fishing experience for any angler of any level. The unique strapping system ensures full security of your rod without the additional strain on your hand, wrist and forearms enabling you to cast for hours without ache or pain. The Nano Grip technology ensures a firm and secure grip on the rod even when wet. These gloves have a fingerless index finger for improved feel of your line with a full neoprene body to keep your hand warm and water resistant. Sold as a pair of gloves. Available in Small, Medium, ,Large, Extra Large & XXL
Cost £20.00
Available from Grip Aid Ltd
---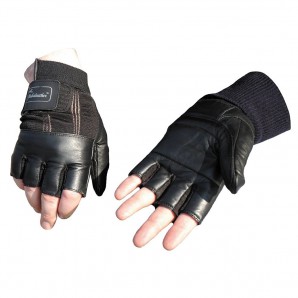 Wet Weatherproof Wheelchair Gloves
The Wet Weatherproof Wheelchair Gloves provide highly comfortable hand protection while propelling a wheelchair. They are made from a comfortable stretch lycra for an ideal fit, and feature super grip palm sections to help prevent slipping. The thumb is fully covered for maximum protection, and the fingers are half open to enable a firm grip. The absorbent towelling sections help to keep hands dry, and stretch cuffs keep the gloves securely in place. Loop closures ensure that the Wet Weatherproof Wheelchair Gloves are easy to put on or take off. Two sizes are available: Medium hand width: 8.3cm (3 1/4 inches). Large hand width: 8.9cm (3 1/2 inches
Cost £19.19
Available from Essential Aids LTD
---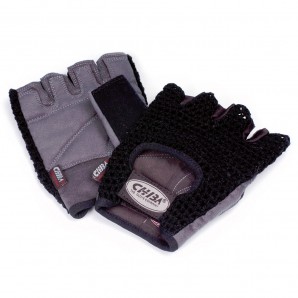 Pushing Gloves
These Pushing Gloves can be used by wheelchair users to prevent calluses from forming and to stop the hands from getting dirty. The padded leather palm also provides a better grip, in wet and dry conditions. An open-fingered design means that the wearer can still perform delicate tasks without needing to remove the gloves. The crocheted back section allows for air flow, preventing the hands from getting hot and sweaty. An elasticated cuff ensures the Pushing Gloves are held securely on the hand.
Cost £20.34
Available from Essential Aids LTD
---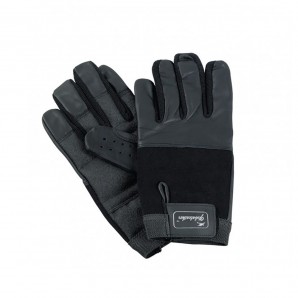 Super Grip Wheelchair Gloves
Super Grip Wheelchair Gloves are designed by wheelchair users to provide the highest quality hand protection. They feature generously padded palms which are tested for maximum grip in wet and dry weather conditions. The robust design helps protect hands while propelling any wheelchair. The backing is made from Neoprene for excellent water resistance, and the elasticated cuffs help secure the gloves comfortably. Two styles are available: full fingered, and with a full thumb and open fingers. Super Grip Wheelchair Gloves are designed to for wheelchairs which have metal push rims. They offer fantastic comfort and lasting quality to wheelchair users in all weathers. Four different sizes are available (palm diameter). Small: 3 inches. Medium: 3 1/4 inches. Large: 3 1/2 inches. X Large: 3 3/4 inches.
Cost £29.99
Available from Essential Aids LTD
---
Active Hands General Purpose Gripping Aid
The most versatile gripping aid, the AH1 can be used for a wide range of activities, including DIY, gardening and sports. It is a real asset for lifting weights, holding a snooker cue and, in the case of children, holding onto handlebars of a tricycle.
The General Purpose Aid functions by the tightening of a strap in the upper section, which gently pulls the hand into a fist shape, adjusting to hold items in the palm. The wrist strap is also adjustable and the aid is padded to reduce chafing.
The AH1 is available for right or left hand and comes in four sizes – Standard, Small (formerly "Children's"), Extra Large and Mini (for children under five).
Cost £45.00
Available from Gerald Simonds Healthcare Ltd
---