BDAA Adapted Equipment
Toilets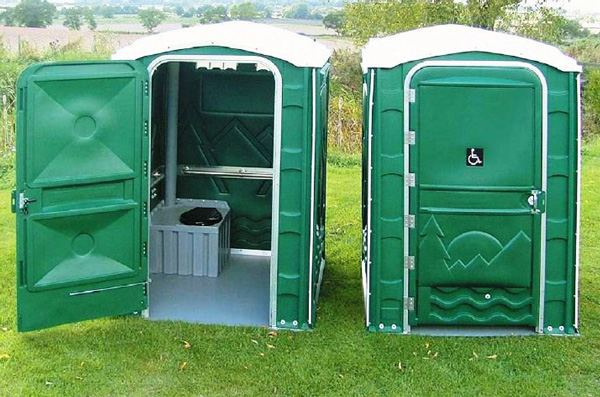 Toilet Unit with Disabled Access
Our standard disabled toilet is built with the same high quality and strength as our smaller standard units but with much larger dimensions and easy access entrance. The external base measures 1.55m x 1.55m and allows generous wheelchair turning space and can accommodate an additional adult where appropriate. Full-width handrails are on two walls with easy reach hand sanitize. These units are serviced weekly and are portable so can be moved around the site if necessary.
Standard Toilet Unit with Disabled Access features:
full-width handrails on 2 walls
ground level wheelchair access
totally self-contained
hand washing is by means of an anti-bacterial hand gel which dries on hands after application
truly portable, with full on-site service if required
re-circulating flush tank system
Cost £0.00
Available from Andyloos
---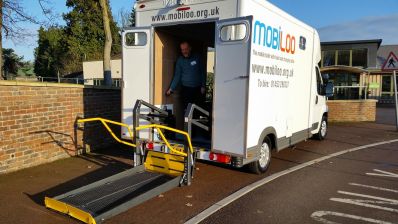 Mobiloo with hoist and changing table
Hire the Mobiloo
The Mobiloo is available for hire across Gloucestershire and into the surrounding area. It is also available further afield from time to time, though we charge more for hires at greater distance.
You can hire it for events, activities and private trips. Single day hires are possible on a self-drive basis or with a driver provided by us. Bookings of more than two days (one night) may only be possible where the hirer provides the driver.
Public events
Are you the organiser of a public event or attraction?  You can hire the Mobiloo and increase attendance at your event by making it accessible to those who would otherwise not be able to attend.  We will provide a driver so that you don't have to collect the Mobiloo or worry about looking after it at your event.
Schools and residential homes
Self-drive hire (25 or over with a clean standard licence) will keep your costs down, but we can provide a driver at a more commercial rate if you prefer.
Families and charities
You can self-drive at attractive rates (25 or over with a clean standard licence). If you need us to find a driver for you,  we will try to find a volunteer so that costs are still kept low. We cannot guarantee this, but we will do our best to do so in order to keep your costs down.
Interested in hiring the Mobiloo?  
Or maybe you're interested in establishing a Mobiloo of your own?
Cost £0.00
Available from Mobiloo
---